China Posts Record Steel Output in May
Jun. 15, 2018
China's steel output surged to a record in May as mills ramped up production to chase fat profit margins, with a strong outlook for demand likely to keep mills running at nearly full capacity for the rest of the year.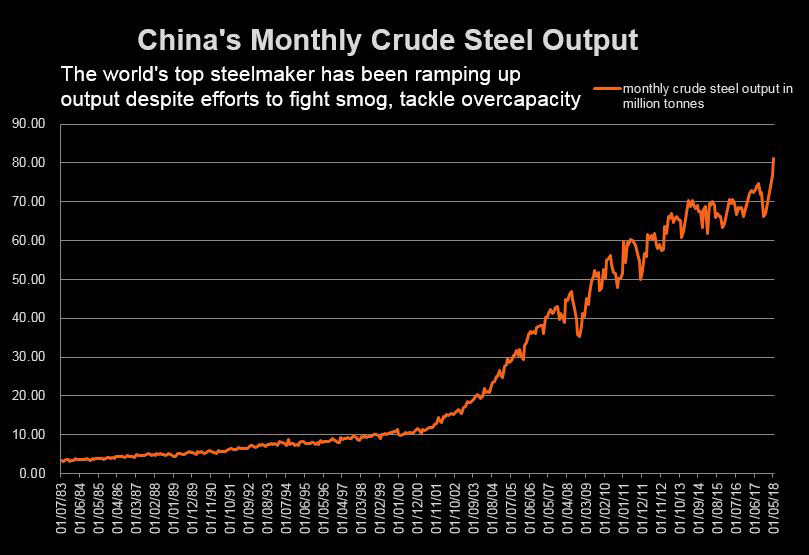 The increased output comes despite China's efforts to limit production in key areas as part of its anti-pollution campaign and highlights Beijing's challenge in tackling overcapacity in the world's top steel producer.
China produced 81.13 million tonnes of crude steel last month, up 5.8 percent from the previous month and 8.9 percent from the same month last year, according to data from the National Bureau of Statistics. Year-to-date output rose 5.4 percent to 369.86 million tonnes.
The utilization rate at steel firms across the country was above 71 percent from late May, a level last seen before winter production curbs which kicked in in October and lasted through March.
Recent environmental inspections in some 10 regions have forced some mills to cut production. But analysts do not expect the curbs to last long, unless new environmental policies add to pressure on supplies.
"Demand from downstream sectors may be better than expected," said Zhuo. "The market generally believes the infrastructure construction sector is more active in the second half than in the first half, which could lift demand for steel products."
Underlining firm demand, steel stockpiles at both mills and traders declined in May despite rising output.