Jun. 12, 2018
China will shut down more outdated steel plants and bring total capacity to less than 1 billion tonnes by 2025, the president of the country's steel industry association said, adding that national demand for the metal is set to decline gradually.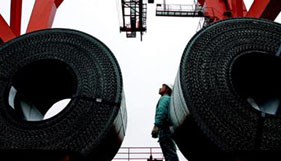 With more than three quarters of firms suffering losses as a result of a price-sapping capacity surplus, China vowed in early 2016 to shut 150-150 million tonnes of annual production in five years in a bid to raise profitability and utilisation rates in the sector. Its capacity then was estimated at 1.2 billion tonnes.
Yu Yong, president of the China Iron and Steel Association (CISA) and chairman of the state-owned Hebei Iron and Steel Group, said as much as 120 million tonnes of annual crude steel capacity had already been closed, allowing average profit margins among CISA members to recover to 4.7 percent last year.
"On the basis of China's achievements in cutting capacity, China will use methods such as the law, market forces, financial instruments and also mergers and acquisitions to continue easing overcapacity," Yu said, according to a transcript of his speech published on Friday by China Metallurgical News, a CISA-backed publication.
He said China would aim to keep utilisation rates at around 80 percent. They fell to less than 70 percent in 2015.
China aims to close another 30 million tonnes of capacity this year, and it has also shut down around 100 million tonnes of illegal low-grade steel used largely in construction.
"In the future, China's overall steel demand will fluctuate downwards and overcapacity is likely to persist for a relatively sustained period of time," he warned.
China is responsible for around half of global steel production and the massive sector has been blamed for poor air quality in northern China, especially in the steel-producing heartland of Hebei province, where Yu's company is based.
But after policy changes and technological upgrades, the cleanest steel mills in the world were now located in China, Yu said, adding that CISA members had managed to cut energy consumption per tonne of steel by 2.16 percent in 2017.